Just started using AirVPN few days ago. I am experiencing slow download speeds regardless of time of the day or server load.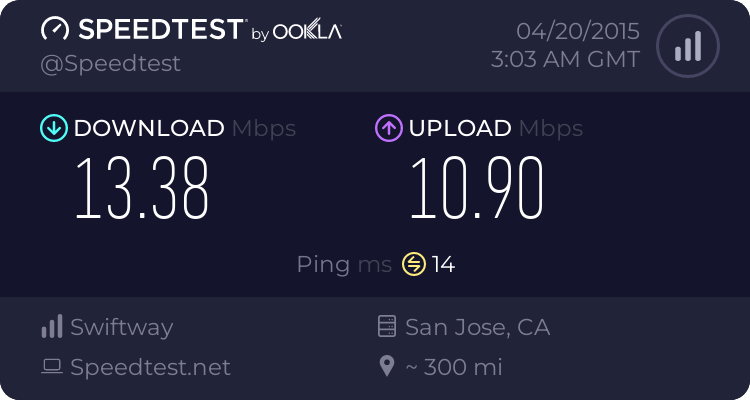 I live in the Bay Area, California. I have Comcast cable Internet with 105Mbps download/10Mbps upload speed.
My node is not oversold and does not slow down at all during peak hours so it's definitely not a problem with my ISP. I don't believe there is traffic-shaping either because I get great torrent download speeds without VPN.
I am not using a router. I use a high-end desktop computer directly connected to my Motorola SB6141 cable modem via ethernet cable. Speed, latency and reliability is of great concern to me so I do not use wireless router
or share my Internet with anyone.
For my VPN configuration, I am using AirVPN's windows software on Windows 7, UDP protocol, no SSL or SSH. I don't like TCP and I don't believe switching to TCP will increase the speed, probably the opposite.
I've tried different ports but download speed is always very slow, never above 20Mb/s. I've tried Los Angeles servers too but there wasn't any improvement in speed, always around 10Mb/s~20Mb/s.
I haven't tried any servers outside of California because it's pointless to me. I need low latency.
I don't use torrent download speed to benchmark VPN's speed. In addition to speedtest.net's speed test, I've tested real download speed by downloading multiple files at the same time from various 1Gbps servers.
The total download speed never went above 20Mb/s.
I currently also have a subscription with IPVanish's VPN. When using their VPN, I actually get 100+Mbps download speed without a problem. But their servers aren't reliable and frequently drop Internet traffic so
I decided to give AirVPN a try.
So, is there anyway to fix the low download speed I am experiencing with AirVPN's California servers?
I love the reliability of AirVPN's Fremont servers but the low download speed is just not acceptable to me.