About AsusWRT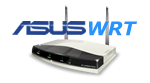 AsusWRT is a unified firmware developed by Asus for use in their recent routers.
The firmware was originally based on Tomato-RT/Tomato-USB, but has since seen many changes.
Asus started using this new firmware with their recent routers (RT-AC68U, RT-AC87U), but they also started moving other routers to this new firmware.



Prerequisite

Asus Router with AsusWRT (native OpenVPN support).
Model tested:
but it should work for all Asus routers that have AsusWRT.
see Official website for AsusWRT model support list.

[Firmware Notes]: Please upgrade the router Firmware to the latest version.
"New Asus Firmware supports 4096 bits key and will work with AirVPN."


Steps
1. Create configuration files from our Config Generator. Select [Router or others] and choose a server you like. Tick on [Direct, protocol UDP, port 443] and click on [Generate]. Save the openvpn config file .ovpn (Ex: AirVPN_<Country>_UDP-443.ovpn) anywhere on your computer.
2. Open the Asus router webinterface and click on [VPN]. Click on [Add profile], choose [OpenVPN] tab. Enter a "description", leave username and password EMPTY. Click on [Browse] and select the downloaded openvpn config file (.ovpn). Click on [Upload]. Click on [OK]. That's it now you can click on [Activate] to connect to AirVPN server.

3. Make sure to setup the AirVPN DNS this way: Click on [WAN] tab. Turn [DNS server] "off" (No) and enter AirVPN's DNS 10.4.0.1 as first DNS IP address (it's DNS for Protocol UDP, Port 443 - see Specs for more details).
About the secondary DNS entry, we recommend picking ones from the OpenNIC Project.
The AirVPN DNS will enable you to access AirVPN geo-routing services to bypass discriminations based on IP address geo-location.

4. Visit https://ipleak.net and check if it works.
Every client (PC, Smartphone, Console, Smart TV ..) which is connected to the router now is secured by VPN and also have full access to the anti-geo-blocking service.

Useful Info

A custom firmware for Asus routers based on official AsusWRT called Asuswrt-Merlin is available.

AsusWRT-Merlin retains all the features of the original stock AsusWRT firmware with added/enhanced features.
More info on AsusWRT-Merlin website http://asuswrt.lostrealm.ca/features