Hello,
I have tried multiple servers in Chicago, Phoenix, Atlanta, Dallas and Miami and cant seem to get more than 40Kb/sec download (sometimes my upload is actually beating my download) out of any attempt.
I am using openvpn on a linksys wrt3200acm running openwrt.

root@WRT3200ACM:/etc/openvpn# uname -a
Linux WRT3200ACM 4.14.90 #0 SMP Sun Dec 30 19:33:49 2018 armv7l GNU/Linux


root@WRT3200ACM:/etc/openvpn# openvpn --version
OpenVPN 2.4.6 arm-openwrt-linux-gnu [SSL (mbed TLS)] [LZO] [LZ4] [EPOLL] [MH/PKTINFO] [AEAD]
library versions: mbed TLS 2.14.1, LZO 2.10
Originally developed by James Yonan
Copyright © 2002-2018 OpenVPN Inc <sales@openvpn.net>
here is the relevant section of my config file:

client
dev tun3
remote 64.42.179.34 443
resolv-retry infinite
persist-key
persist-tun
auth-nocache
route-delay 5
verb 3
explicit-exit-notify 5
remote-cert-tls server
cipher AES-256-CBC
comp-lzo yes
proto udp
sndbuf 524288
rcvbuf 524288
key-direction 1
(security/cert info follows but snipped)
I have a somewhat unique situation in that I have multiple VPNs set up going to other private routers, and need a bunch of ports forwarded for gaming, plex media server and a couple other more esoteric applications. So you may notice that some of my options in the config file are a bit non standard such as naming the tun interface specifically and binding to it. This is required for everything to work as it should. This is the 4th VPN provider I am testing on and the 1st that I have no issues with my configuration, I have been able to set up everything as needed and all my applications work perfectly which is awesome. All of the servers are connecting fine, and I do not see anything unusual in the log files regarding the connection, it all looks great except for the nasty dog breath speed.
I have a Gigabit connection to the internet and my speed tests without VPN typically measure 960ish Mb/s download and 40Mb/s upload.
Other things were running that I didn't want to stop while I took this test, so it isn't full speed.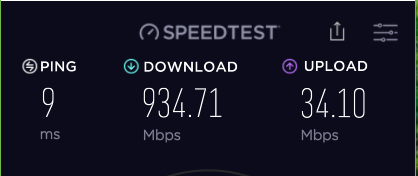 Obviously I don't expect gigabit speeds out of the VPN, but I need to see at least 150Mb/s for this solution to be workable for me, and from what I see in other posts it looks as though that should be possible.
Any pointers to get me a bit more juice would be greatly appreciated. Thank you for taking the time to assist.
Kind Regards,
David